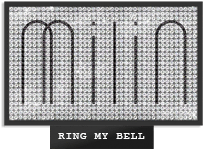 "You can ring my be-e-ell , ring my bell ~". As the phone chimes, its owner picks it up instantly, with euphoric enthusiasm. It is time to get glam and get going! Even though she is home, she has a lot to attend to, online shopping included. The next thing you know, she has meetings outside with her clients, which means putting on her professional look. But right now, she is in her party mode, ready to rumble with her girls. Her schedule is insane and there are endless things that need her attention.
For such an exhilarating moment, Milin presents "Ring My Bell", the first online exclusive collection. This time, the design team is inspired by a former chart-topper "Ring My Bell" by Anita Ward, which is a song that perfectly captures a woman's confidence as she is unafraid of getting what she wants, including her romantic desire. It is sensual and inviting, evoking imagination.
In this collection, Milin and its design team reinterprets the song and imagines a woman who lives her life 24/7. She enjoys every moment of her day. In the morning, she welcomes a new day with a comfy chiffon dress with front draping, available in various hues. She styles it up with a square neck velvet blouse with front draping and slim-fit capris. For a dressier occasion, there's a light green and white blazer, decorated with stone buttons, which matches practically any item – from pencil trousers in a matching color to slim-fit jeans with a Milin badge layered over a crystal plate. For a casual day, she puts on her loungewear items – an organza shirt with matching pink shorts, or a one-shoulder jersey dress with tucks and a shirt sleeve. For a more photogenic look, she puts on an asym- metrical cropped blazer and shorts with a front cover. She rises to new challenges in a sensual and versatil dress shirt, and for the evening, she goes to a dinner date in a velvet minidress with front ties. As the night carries on, she parties with her friends in a seductive low-cut minidress with Milin charms. Another highlight item which looks great on everyone is a T-shirt with a Milin badge layered over a crystal plate for a simple but edgy look.
Get ready for every moment in life with the Ring My Bell collection today.