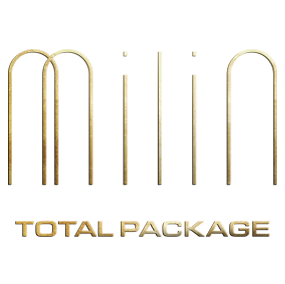 Refining the Notion of "Total Package" Women in the Modern World
Milin's journey with the "Total Package" begins with a mood board adorned with inspirations drawn from the favorite women who have redefined the concept of a total package. It's not just about beauty, nor solely about intelligence; what holds significance is the embodiment of a high-value woman, someone who attains a remarkable level of physical, mental, emotional, and spiritual well-being, channeling the essence of these iconic women into every design, creating a symphony of boldness and endless charm.
Milin, renowned for its blend of elegance, sensuality, and rebellious spirit, is dedicated to reshaping women's fashion. The "Total Package" collection centers on Milin's dedication to refined cuts and sharp patterns, evoking the craftsmanship of tailoring. Each item encapsulates precision, offering a reminder of the meticulous artistry ingrained in every stitch stand as proof of our brand's self-aware and deliberate trajectory. This essence also mirrors the concept of product packaging, which serves to shield, captivate, and add touch of mysterious to its contents.
Picture a see-through drape overlay top, a corset bustier bra, sharp cropped blazer, an asymmetrical drape accent on cocktail dresses, and an open-back ensemble for a night. Atop these creations, Milin's signature logo hardware, embellished with crystal and Pearl coatings, alongside with M buckled belts, bestow an edgy charisma. Our collection showcases a range of neutral colors that pay homage to timelessness—reintroducing shades such as white, beige, nude, and classic blue jeans and super black In addition, we explore earthy tones such as sand and golden brown, as well as the elegance of silver and gold in pleated, soft velvet denim, shimmer lightweight chiffon.
While the technical finesse is ever-present, everything retains an enduringly camera-ready appeal without veering into excessive flashiness that offers the flexibility to mix and match seamlessly, effortlessly weaving together ensembles that complete the total look serving as a reminder, wearers are encouraged to infuse vitality into their overall presentation—a true embodiment of the total package.